Stars Whose Style Ruled the 2021 MTV EMA Red Carpet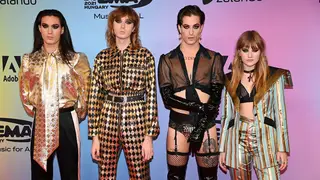 The 2021 EMAs started off with a bang as stars from all over the world strutted their stuff on the red carpet.
Feathers Were Having A Moment
Feathers were definitely having a moment, with presenters Winnie Harlow in baby blue and Rita Ora in onyx. Rita's feathers followed her across the red carpet, giving glam goth vibes. Winnie broke all the fashion rules (and made it work!), by having a thigh-high matching boot and a stiletto sandal — she has walked on many a runway, so she knows what she's doing.
Saweetie's Showstopping Looks
This year's host Saweetie stepped out in not one, but TWO showstopping looks. The first featured an ombre gown in the color of a Budapest sunset finished with light fringe, so it appeared as if she floated down the red carpet. The Icy Girl transformed into a boudoir baddie for her second look, wearing all black with a sheer overlay, a matching veil and feather-adorned shoes.
Underwear As Outerwear
And Måneskin's lead singer Damiano David continued the underwear as outerwear trend, wearing an all black look including fishnets, a sheer top and studded underwear, giving everyone Rocky Horror flashbacks. The whole Måneskin gang brought the color and glam, with bootcut patterned sets in gold, silver and icy blue.
Ed Sheeran in a flame-covered suit
Måneskin weren't the only rock stars to don a bold look. Ed Sheeran stepped out in a stunning flame-covered suit, possibly alluding to his rebellious "Bad Habits" hit?
YUNGBLUD and Manu Gavassi
YUNGBLUD and Manu Gavassi brought edge to their white jackets. YUNGBLUD's featured cheetah print (a clear fave of his) and safety pins, while Manu had a deconstructed chic. And there were A LOT of leather jackets…Kim Petras paired hers with a tartan yellow gown with a thigh-high slit, while Maluma opted for matching leather pants. Really there was no wrong way to go with that trend.

Keep your eyes peeled here for more MTV EMA 2021 coverage!