All The MTV EMA Swag Bag Gifts To Add To Your Wishlist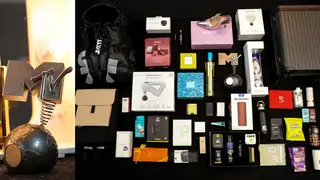 The MTV EMA 2021 swag bag was a SIGHT to behold, and featured items ranging from skin care to refreshments for this year's global celebration.

If their eyes were a little puffy after crying during their acceptance speech, then they could use the Pixi DetoxifEYE Depuffing Eye Patches and the Pixi Glow Tonic Toner.

And don't want to suffer from bedhead after attending an unofficial after party? Never fear! The swag bag included the ColorWow Dream Coat Anti-Frizz Treatment and a Napapijri beanie for those cold Budapest mornings.

Not just stars, but everyone, should stay healthy and happy, which means that the Nursem Caring Hand Sanitizer and the Hand Cream are must-haves.

And remember it's a mint, not a hint, with the Nuud Gum.  

Plus if you want to quickly freshen-up, use the AKT Deodorant Balm and Assistant for *just* the right amount of product.

Can't leave before the bars close? Well guess what! The swag bag included The Glenlivet Single Malt Scotch Whiskey dubbed "The 15 Year Old."

How could they possibly carry all of these items? Well our friends at Kapten-son sent a chic backpack that will get every star from the red carpet to their private plane.

Add these items to your wishlist now!
Backstage: EMA 2021 Swag Bag