Three Ukrainian Changemakers to Receive the MTV EMA Generation Change Award
Three inspiring Ukrainian women will be honoured at this year's ceremony.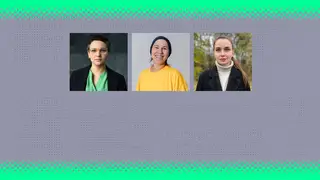 It's time to get inspired for change! Lina Deshvar, Anna Kutova and Anfisa Yakovina will be honoured with the MTV EMA Generation Change Award for their efforts fighting for those impacted by the humanitarian crisis in their native Ukraine.

The honour is awarded in partnership with Choose Love, a leading humanitarian and advocacy group for refugees. MTV will present these brave and incredible women with the award LIVE from the MTV EMA 2022 red carpet pre-show on Sunday 13 November.

Lina Deshvar of the Luhansk region volunteers with Seeing with the Heart, an organization that develops projects for socializing children, teens and young people with complex developmental conditions. Since the conflict in Ukraine began, Lina has visited military hospitals and delivered humanitarian aid to families with children navigating developmental or physical disabilities as well as those in difficult life circumstances. Lina also aids in the evacuation of these families.

From the Poltava region, Anna Kutova has been a part of the team at the Light of Hope, where she has helped open five shelters for over 400 internally displaced people, LGBTQ+ people, women suffering from addiction, people living with HIV and more.

Originally from Crimea, Anfisa Yakovina relocated to Warsaw, Poland, when Russia first invaded Ukraine in 2014. She currently practices prenatal psychology and leads childbirth preparation classes for refugees and support groups for moms of newborns from Ukraine at the Polish Migration Forum Foundation. She also counsels and delivers psychological aid for refugees and leads support groups for Ukrainian mothers who are struggling to adjust to life in Poland.

Celebrate these three amazing women and their incredible efforts at the MTV EMA 2022 live from Düsseldorf, Germany!