HERE'S WHO TO FOLLOW FOR THE INSIDE SCOOP ON ALL THINGS 2019 MTV EMA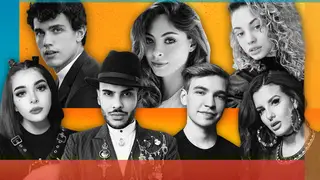 The 2019 MTV EMA are almost here, and things are really starting to heat up here in Seville, Spain! Good news for you, even if you can't make it to this year's show, you can feel like you're here thanks to our team of international Social Insiders.
We've rounded up a few of your faves from all over the world to help give you an exclusive look at all the behind-the-scenes action going down at the 2019 MTV EMA. Set up push notifications for these folks now, because this is who you're going to want to be following this weekend.
Hugo Gloss
First up, we've got the infamous pop culture expert Hugo Gloss representing Brazil. Hugo is a pro at not only calling out the hottest moments from any major celeb event, but creating them, too. Did you see the bromance he sparked between David Guetta and Terry Crews last year? Let's hope there's more of that in Seville! 
Instagram:
@hugogloss
&
@sirbruno
Twitter:
@hugogloss
Snapchat:
hugogloss
Facebook:
Hugo Gloss
YouTube:
Hugo Gloss
Rose Bertram
Also making a triumphant MTV EMA return is Belgian model Rose Bertram. She's got a big personality and knows how to work a red carpet. Make sure you keep your eyes on her! 
Instagram:
@rose_bertram
Twitter:
@BertramRose_
Snapchat:
stebertramrose
Facebook:
Rose Bertram
YouTube:
Rose Bertram
Dhasia Wezka
We're super excited to have Mexican beauty YouTuber Dhasia Wezka joining the MTV EMA crew this year! We can't want to see how she does her makeup for the show and what she'll think of everyone else's. 
Instagram:
@dhasiawezka
Twitter:
@DhasiaWezka
Snapchat:
dhasiawezka
Facebook:
Dhasia Wezka
YouTube:
Dhasia Wezka
Xavier Serrano
The MTV EMA are back in Spain and so is Xavier Serrano! The Spanish model is guaranteed to turn out a killer outfit and hopefully his home court advantage will position him well for a ton of sneaky behind-the-scenes content. Special request: Can we get a livestream of his cute little face singing along to Rosalía's performance? 
Instagram:
@xserrano9
Twitter:
@xserrano9
Snapchat:
xavierserrano93
Facebook:
Xavier Serrano
YouTube:
Xavier Serrano
Justina Valentine
Justina Valentine knows her way around an MTV event. That's why we *had* to bring the rapper, model, and Wild 'N Out star out to Spain as one of our MTV EMA Social Insiders. I don't know about you, but my fingers are crossed she starts a rap battle with the night's host, Becky G! 
Instagram:
@justinavalentine
Twitter:
@JustinaMusic
Snapchat:
JustinaMusic
Facebook:
Justina Valentine
YouTube:
Justina Valentine
Rosalba
Did you think we forgot about TikTok? Because we didn't. Repping for Italy is the TikTok Billie Eilish, Rosalba. She and her two-tone black and purple hair will be flooding you with all the behind-the-scenes MTV EMA TikToks your feed can handle. 
TikTok:
@rosalba
Instagram:
@rosalba
YouTube:
Rosalba
Paul Lino
Finally, if what you want the most are hilarious reaction videos and jokes, keep your eyes glued to German TikToker Paul Lino while he roams backstage at this year's show. 
TikTok:
@paullinoo
Instagram:
@paullinoo
Got all that? *pauses for response* Good! And while you're keeping up with everything happening backstage, don't forget to tune in to the main event when it airs live on Sunday, November 3rd from FIBES Conference & Exhibition Centre in Seville, Spain, and stay tuned to @MTVEMA all over social media for more updates on the show!